Rare Cars & Real Estate
August 25, 2022 @ 8:00 pm

-

9:00 pm

Free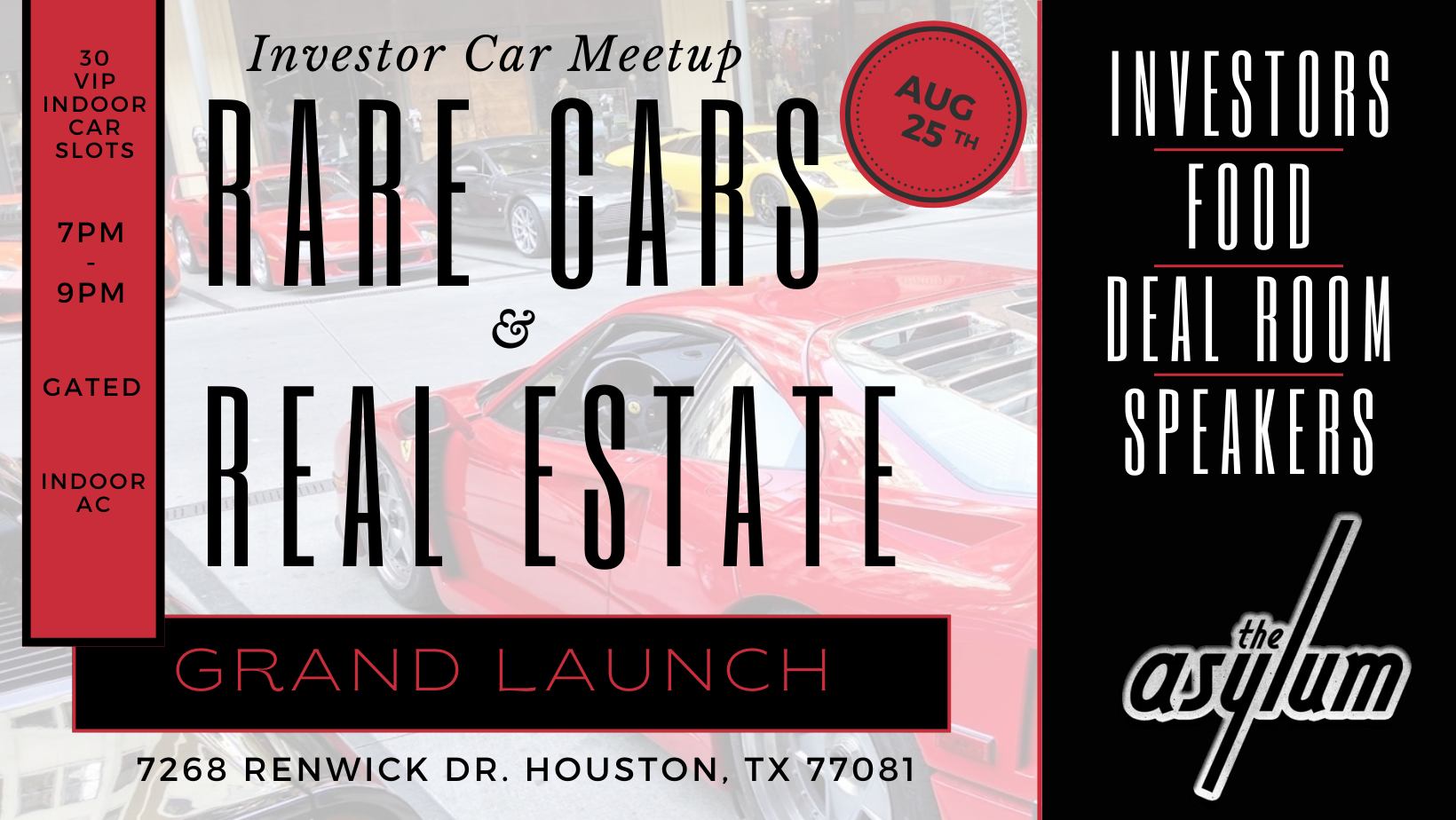 Our goal is to put on the largest Investor Meetup in Texas! Once a month investors from Houston and all over the United Stated will meet at The Asylum. This 130,000 climate controlled space houses everything from vintage rare cars to the most desirable exotics. Having your dream car right in front of you is enough motivation to get and deal on going. Have a car or not, if you want to invest in real estate this is where you need to be!
Rain Out Procedure:
If your vehicle can not be exposed to the rain, or dangers of driving in the rain, we ask that you bring your postpone this event and plan for the next's month event.
-THE EVENT WIL STILL TAKE PLACE-
There is normal parking outside very close to entry door. Meetup will take place as a normal Investor Meetup inside the venue.
Speaker/Panel/Guest List
-Brad Blazer
Brad is a highly sought after speaker on the subject of raising capital. Having raised in excess of $2 Billion dollars, today he mentors others around the world as part of a global coaching business on how to raise funds from high net worth investors to build, buy, and scale a business – or fund a special project like real estate.
-Randy Langenderfer
𝙄𝙣𝙫𝙚𝙨𝙩𝘼𝙧𝙠 𝙋𝙧𝙤𝙥𝙚𝙧𝙩𝙞𝙚𝙨 was started to identify, acquire, and operate Multi-family apartment buildings and provide passive income to investors in a safe, tried, and true method of commercial real estate investing. We have owned more than 4,000 units in multiple states (TX, OH, OK, LA). We currently are general partners/key principals in 250 units and passively invest in other sponsors deals as opportunities present.