Rare Cars & Real Estate
September 15, 2022 @ 7:00 pm

-

9:00 pm

Free – $50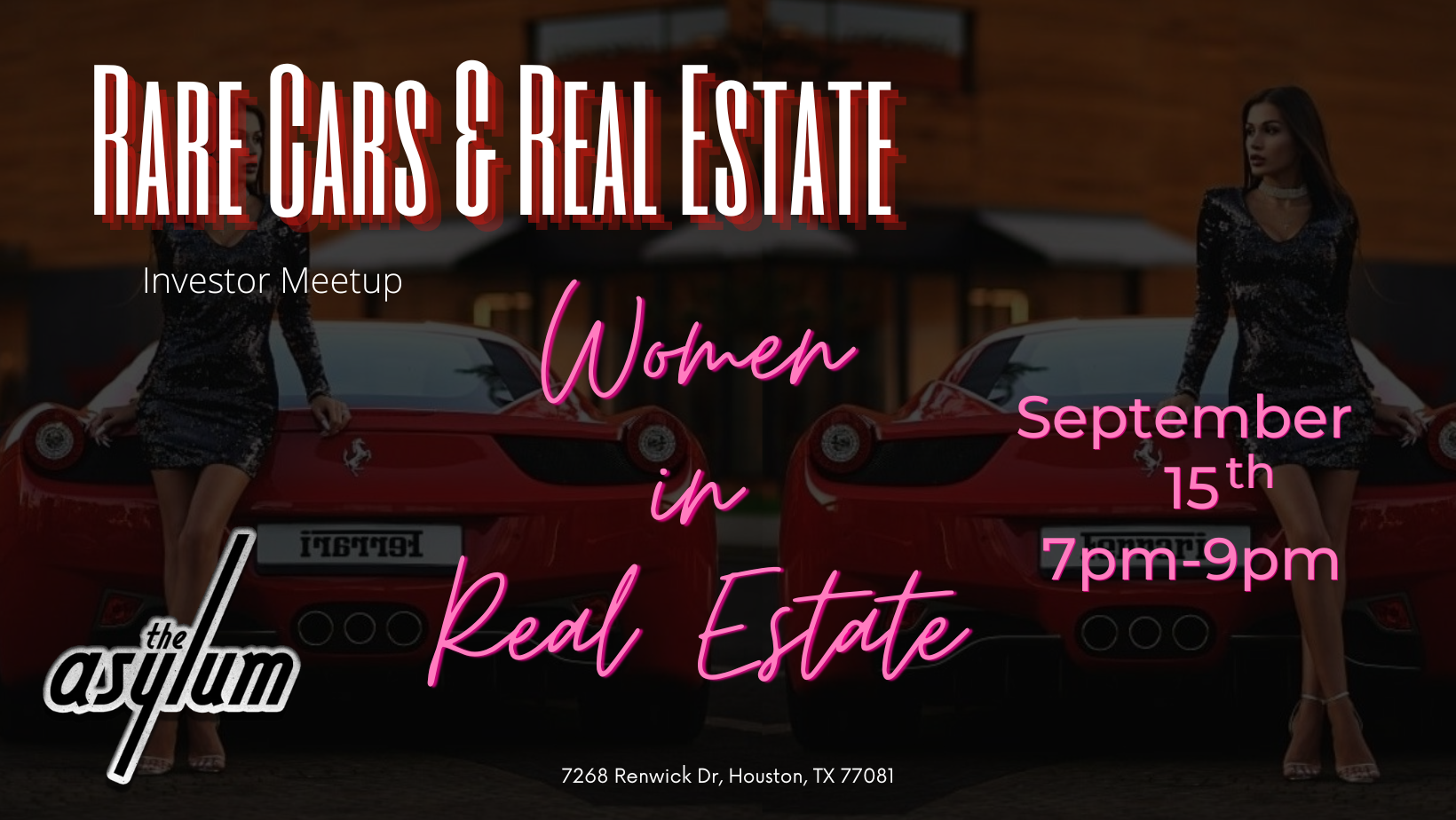 Our goal is to put on the largest Investor Meetup in Texas! Once a month investors from Houston and all over the United States will meet at The Asylum. This 130,000 sq ft climate controlled space houses everything from vintage rare cars to the most desirable exotics. Having your dream car right in front of you is sure enough motivation to get a deal closed! Have a car or not, if you want to invest in real estate this is where you need to be!
We are expecting 150-200 people.
This event will be September 15th
7pm-9pm
Accepted Cars
Exotic Cars
Vintage
Rare
Car owners receive:
2 Beer & Wine Tickets
Dinner & Dessert for 1
Restricted VIP 2nd floor access and seating.
Meet and greet with Speaker(s) and Investors
Professional car exterior detail on site.
Please email [email protected] for a spot.
VIP Tickets
2 Beer & Wine Tickets
Dinner & Dessert for 1
Climate Controlled Interior Parking
Meet and Greet with Speaker and Investors
Exclusive VIP 2nd floor access
$50 – 50% off until September 9th
$100 – Regular Price
Purchase tickets : https://rarecarsandrealestate.eventbrite.com
Food by
Yummy's Hot Chicken Food Truck
Dessert Food Truck TBA
Rain Out Procedure:
If your vehicle can not be exposed to the rain, or dangers of driving in the rain, we ask that you postpone this event in that vehicle and plan for the next month event.
-THE EVENT WIL STILL TAKE PLACE-
There is normal parking outside very close to entry door. Meetup will take place as a normal Investor Meetup inside the venue.
TO SPONSOR
Subject: Rare Cars & Real Estate Sponsor
[email protected]
TO VOLUNTEER
Subject: Rare Cars & Real Estate Volunteer
[email protected]
Rare Cars & Real Estate Investor Meetup
Facebook Event
https://fb.me/e/27Xn1PXTW
Facebook Group Page
https://www.facebook.com/groups/1943050762565766
Eventbrite
https://rarecarsandrealestate.eventbrite.com